Mmm. Chocolate
A girl's got to keep her shape during the holidays, but now that it's over, I've decided to treat myself.
Cadbury Eggs are really a wonderful thing. Too bad you only get them one time a year.
So, I've been nibbling on jelly beans and left over Cadbury eggs. Clover can wait. :-)
Much Bunny Love,
RB™
Did you miss me?
I've been hopping around like mad -- you know that Easter is the busiest time of the year for me. Anyway, we finally had all the candy delivered, managed to keep ourselves out of the stew pot, out run the dogs, dodge the cars, etc.
I'm pooped!
Anyway, I realized that I have been remiss and haven't posted about my win as the 2006 Cutest Blogger as hosted over at Silver Blue's.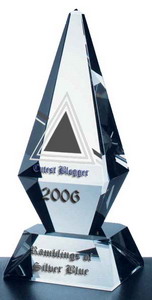 I'm verry happy about this and would like to send out my heartfelt thanks to bunnies everywhere!
RB™