The house is...
....turning blue, like meeeeeeeeeeeeeeeeeeeeeeeeeeeee!
Silver Blue had the roofing people over finally (or should I type that finally a company showed up!), and they tarped the roof. It was fun watching the guy go in and out of the window. LOL. He almost fell off the roof, which was scary. I had to cover my eyes. (I stopped, however, at covering my ears, which should be obvious)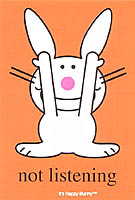 Anyway, choir is this evening. I want to hear how the cantata is coming along.
Posted by Roxette at November 5, 2003 03:44 PM